Auguri di Boun Natale!
December 15th the best Christmas present this blogger could ever want came from Kristen Ross.  Kristen posted a comment asking for help finding out more about her friend Nancy's family.  I e-mailed her, then she e-mailed me and soon we were chatting on the phone like old chums.  The surnames in her pal's family can also be found in my family! Rinaldi, Fusco, Mancini – wow – my bis-nonna was Mariantonia Rinaldi who had a brother Francesco.  Nancy's grandmom, Maria Rinaldi, was the daughter of Francesco Rinaldi !  Could this Californian's family tree intersect with mine?
Those of you who grew up in or live in Pontelandolfo may know the family – if you do please leave a comment on the blog.  Nancy's dad – Domenic Mancini was born in the Minicariello section of Pontelandolfo.  His dad was Antonio Mancini and mom was Maria Rinaldi.  Antonio's father is Angelo Mancini and his mother is Catterina Fusco. Maria Rindaldi's father was Francesco Rinaldi and her mother was Antonia Rinaldi.
This is Kristen's Story –
Domenic Mancini was born on a small farm in Pontelandolfo, Italy. During World War II, nine year old Domenic was the first one in his family to discover that his father, Antonio, was killed in Bardia, East Africa.  His mother's inability to read meant that this little boy had to personally deliver the devastating news to the family.  As I began to hear more about Domenic's early childhood, I was deeply affected by the tragedy of it all…images of Domenic being held back by his Mother as the only father he knew left for lands and battles unknown, the longing of a little boy for an absentee father, and the courage he had to support his grief-stricken mother.
To compound the sadness of war, he never knew where his father was buried.  He was told that Antonio was buried somewhere in Africa, but no one had been able to locate any information, and Domenic (now 82) had begun to come to terms with the idea that he might never be able to pay his respects to the father he lost and have closure.
After hearing him tearfully tell this story, I could not imagine what is was like to not know where his dad was after all these years.  I was determined to do some research of my own.  I felt the sense that nothing is impossible and nothing is ever lost, it just hasn't been discovered.
Having taken only one Italian class, after traveling to Italy several times, I used my broken Italian to make numerous phone calls, emails, and research Italian websites. Having looked at almost two thousand names, a thousand war memorial sites, and spent countless hours of translating Italian handwriting from the 1940's I was coming up with nothing.  It was like searching for a needle in a haystack, an Italian haystack for that matter.
I needed un miracolo; a miracle.  Every time I find myself helpless, I turn to something higher. I simply prayed for this right intention to manifest itself.  For a father to be reunited with his son, even 72 years later, is still possible.  Having lost my father too, I knew how much this would mean to Domenic to have some sense of unity, closure, full circle ect… I kept ricerca; searching.
Before I went to sleep that miraculous night, I checked one last Italian website.  I typed in the letters of his last name and there he was.  Antonio Mancini had been found.  I started scrolling down to make sure I was actually seeing straight.
 Luogo Sepoltura means Place of Burial. He was back home in Italy. From previous research that I had done, I knew the bodies of the Italian Soldiers who died overseas, were sent back to Italy in December of 1967 and placed in a beautiful memorial museum in Bari, off the coast of the Adriadic Sea. Dominick's father has been honored there.
I called Nancy, and she quickly made the phone call to Domenic! He was in total shock and was filled with so much joy. He told us that this was the best gift he'd received in his entire life. As his voice teared up on the phone, he told us he would travel back to Italy to see his father. This summer, we will be traveling with him on this beautiful journey to witness this father and son reunion.    
 Unconditional Love is the best gift in the world.  
This is the true meaning of Christmas to me.
 **********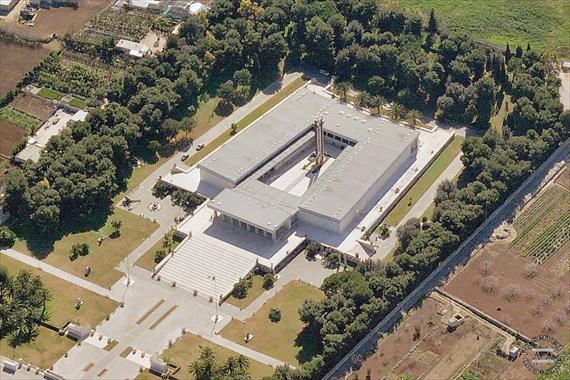 The Sacrario Militare dei Caduti d'Oltremare (Military Memorial to the Fallen Overseas) was opened on 10 December 1967 on the outskirts of Bari, on the way to Brindisi. The structure houses the remains of more than 70,000 Italians who died in foreign lands. These lands include Greece, Albania, Algeria, Morocco, Tunisia, Libya, Somalia, Ethiopia, Eritrea, Germany and the Mediterranean Sea, in the First and Second World Wars.